---
Dynamic Data Exchange (DDE) is a feature that enables real-time automatic update of stock information from the application to any DDE enabled applications, e.g. Excel spreadsheet.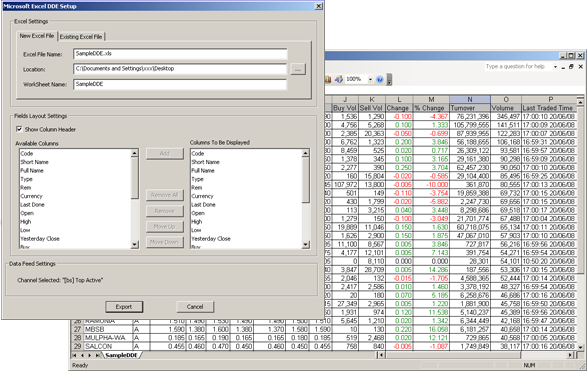 Setting up DDE links from the application
1. Go to
File
-> Export DDE. Choose either
2. A pop-out dialog is shown. Fill in the details and Click Export.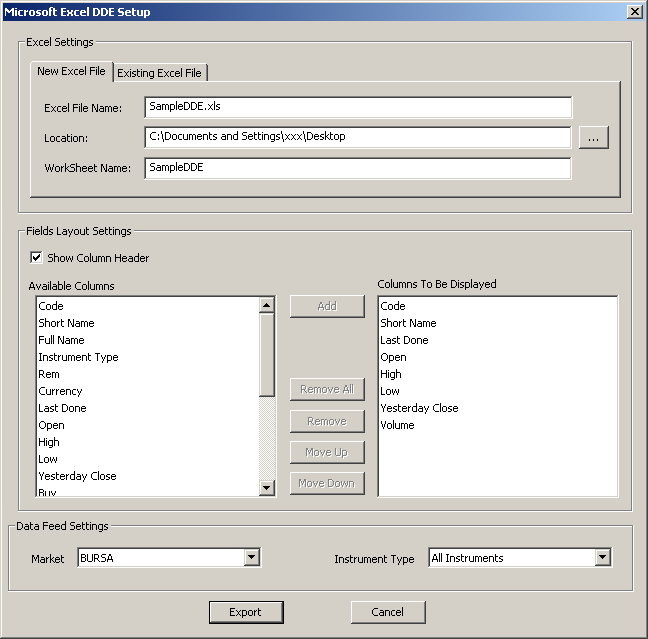 Setting up DDE links from Excel Spreadsheet
Type in the formula using the format below:
=SIDE|<Market Code>!'<Stock Code>;<Field Name>'
E.g.: =SIDE|MY!'1818.my;shortname' => Bursa
Market and Field Name Supported
| | |
| --- | --- |
| Market Code (IN CAPS) | Market |
| | |
| | |
| | |
| --- | --- |
| Field Name | Explanation |
| | |
| | |
| | |
| | Counter's type (stocks, warrants, indices, etc.) |
| | Counter's remarks (H, BI, CD, XD, etc.) |
| | Counter's traded currency (S$, US$, etc.) |
| | |
| | |
| | |
| | High Price of the trading day |
| | Low Price of the trading day |
| | Close Price of the previous trading day |
| | |
| | |
| | |
| | |
| | Change in Price (Last Done Price - Yesterday Close Price) |
| | Percentage Change in Price |
| | Traded value (traded price x traded volume) |
| | |
| | |
| | |
| | |